For the past 20 days Rosie Huntington-Whitely and her never ending legs have graced news stands up and down the country, as she visits, not only Elle's front cover for the first time, but GQ's for the second. And conversely, whilst the Elle shot is beautiful, it is the Gucci GQ cover, which stuns. It literally transfixes men and women alike.
The shot whilst provocative is demure, and whilst revealing is tasteful - everything the cover shot for magazine attempt 'Covered' of last week's 'Apprentice', should have been. In fact, it is the perfect GQ cover, in that whilst it is 'sexy' it is by no means 'slutty', just as, whilst GQ is a 'gentleman's magazine', it is by no means a 'lads' mag'.
The photograph like GQ sells to men, who love women, just not every single part of them, before they've had time to eat their breakfast. Quite simply, it works, just as last month's Penelope Cruz shot did too, as it followed a similar formula that mixes both sex and class to create undeniable beauty.
However, that isn't to say that GQ always gets it right – for such an interesting beautiful-looking girl, GQ's recent cover of Rihanna seemed like a missed opportunity. There was no mystery just 'sex' and whilst there is nothing explicitly wrong with Rihanna in a pair of fishnet tights, it is a tad cliché.
For a men's magazine, which aims to separate itself from the likes of FHM – here it failed. There is nothing wrong with FHM, just GQ imitating it, particularly when it has its own individual style and look to uphold.
Clearly when GQ gets its hands on Victoria's Secret girls, it
is
entitled to lather them in lingerie, after all that's what the girls are known for. However, there should be a balance between the magazine's image and that of its cover star's – Rihanna may now be known for her love of 'S&M' but GQ isn't.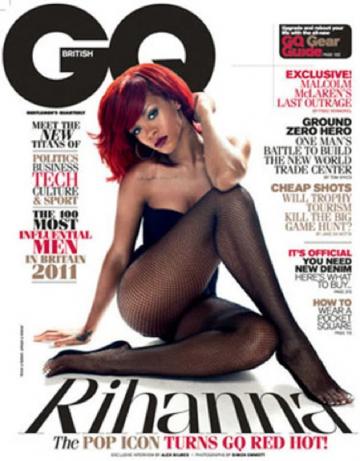 What's more is that unlike GQ and other men's magazines, women's magazines rarely, if ever, feature a member of the opposite sex on their covers, let alone photo-shoot's of a man in his tighty-whities. It just doesn't happen. Instead they create beautiful, memorable photos of women with concepts to their photo shoots other than 'I want you in my bed' and 'this suit looks nice on me'.
Clearly GQ isn't about to abandon having women on its cover, that would be a massive marketing error. However, it's about time they spend just as much effort on their cover-boys as they are now doing their cover-girls. It is after all a men's magazine, which if not wholly, does focus on men's fashion.
Vogue readers remember a Vogue fashion shoot, GQ readers rarely remember a GQ one. This has to change, as more and more men are beginning to embrace fashion.
However, as it stands, GQ's more stylish approach to female covers is a step forward - I have to admit I'm looking forward to the next one.