Finally it is August: a month devoted to
summer
holidays, reading in the garden and perhaps most importantly, September issues. The September issue of a fashion magazine is to fashionistas what an indoor play area is to a hyperactive kid - a special annual treat that has the potential to satisfy all your deepest desires within seconds, yet keep you occupied for a couple of hours. When one reads a September issue one is most definitely
#winning.
Whether it's Freida Pinto in Pucci, Kirsten Dunst in Miu Miu, Beyoncé in Gucci or model of the moment Freja Beha Erichsen in Dolce & Gabbana that entices you this month, each will lead you into a 400 plus page world of wonder. A gateway into the clothes and trends of the season to come, which allows us to escape from the hustle and bustle of day-to-day life that creeps back upon us as the summer sun begins to fade away.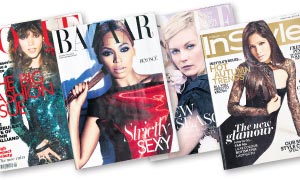 A September Issue is more than a mere monthly magazine. Instead it is a full-fledged fashion novel destined to be read and re-read throughout its subsequent season, as it guides its owner on a journey of beauty and style with it's abundant mass of on-trend tips, star-studded shoots and in-depth articles.
However, what else is becoming more noticeable about September issues year on year, is the increasing amount of advertising that drips from their picture perfect pages, which suggests that the only ones #winning from them are the magazines themselves, as they make millions from both their designer advertisers and those of us they 'trick' into buying an entire collection of AW campaigns.
Now, in a sense this is true. There are many more designer spreads - the three double pages, centered in the middle of GQ's editor's letter this month just isn't cool. However, these adverts allow magazines to devote more money to both their articles and their photo shoots, with the result that they can create a detailed magazine with a double helping of everything, ads, articles and all. Besides who doesn't love a good gawp at the new campaigns and collections said magazines lay before us? - they are beautiful, just look.
In the case of Karl Lagerfeld and Calvin Klein, the two have once again proved that the rule 'if it ain't broke don't fix it' can apply to fashion as well as D.I.Y., as they use model muses Freja Beha Erichsen and Lara Stone to headline each of their respective campaigns again. Stone looks effortlessly stunning throughout the minimalist Klein campaign and Erichsen plays on her humorous side in cat costumes and ball masks alike for Chanel .
In contrast to this continuation though, a change of tune appears to be working in favour of brands such as Chloé and Miu Miu, as McGibbon exchanges Chloé's staple building backdrop for the ethereal setting of a wood and Prada nabs young star of the moment Hailee Steinfeld to front it's campaign in place of last seasons array of mannequin-posed models.
However, the campaign/collection combination, which has undoubtedly stolen the show this season is that of Givenchy, as Ricardo Tisci presents his jaw dropping panther print fetish collection with a fierce growl from the likes of Natalia Vodianova, Naomi Campbell and Kristen McMenamy. That yellow jumper/skirt mix is the outfit of the season.
So there we have it, the September issue is an issue of a magazine filled full with campaigns, but it is these campaigns which support the issue and thus allow them to be the masterpieces they are and looking at this years campaigns, who cares about a few extra adverts. This year everyone is #winning.